Submitted by Stanley Beckner
Chapter 1100 News
The April meeting of Black Forest AARP Chapter 1100 was filled with news and plans for the summer. Carolyn Wilson from Rocky Mountain PACE (Program of All-inclusive Care for the Elderly) provided a complete and informative program. Her presentation was interactive; she discussed the details of PACE (eligibility, payment and the services that PACE offers). Any person with questions about PACE should call 719-314-2327.
During the business meeting, details were finalized for two upcoming chapter projects. On May 6, the chapter will participate at the Gazette Senior Life Expo in Colorado Springs, with a booth featuring information for retired or older persons. Call Stan at 719-596-6787 for questions or more information on the event.
On June 10, the chapter will host a free shredding event, from 9 a.m. to noon at 12455 Black Forest Road in Black Forest. (See notice at the end of this article.) Call Jim at 719-330-5923 for more information.
Black Forest AARP Chapter 1100 is dedicated to community service, but we have also have fun. If you are interested in visiting a meeting, call Candace Lehmann, chapter president, at 314-330-0411.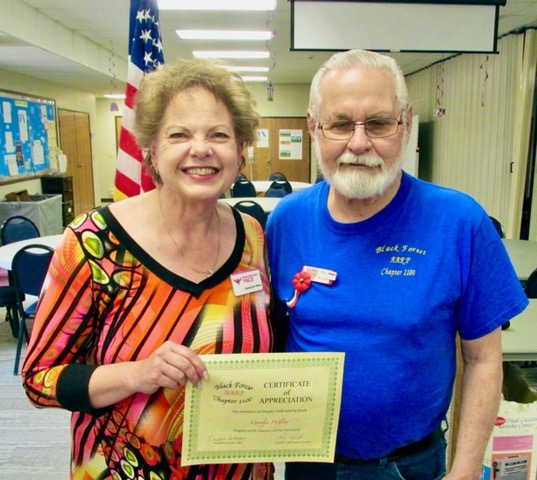 AARP Photo: Ray Rozak, Chapter 1100 program director, presented a Certificate of Appreciation to Carolyn Wilson of Rocky Mountain PACE after her interesting presentation on how PACE can make life happier, healthier and better for local individuals who seek to live more independently.
FIGHT FRAUD – SHRED INSTEAD
FREE SHREDDING is coming to Black Forest on Saturday, June 10, from 9 a.m. to 12 p.m. at 12455 Black Forest Road. This is an opportunity for individuals to drop off unneeded personal and financial documents for on-site professional shredding. Reservations are not required. There is a limit of three boxes or bags per person. No plastic or metal binders will be accepted. A donation of cash or a nonperishable food item for Black Forest Cares Food Pantry would be appreciated.