H.R. 1788 could fix that
By Erin Malcolm
A female golden retriever, documented as Golden Retriever No. 142, endured an inarguable terrible life at a U.S. Department of Agriculture-licensed Iowa breeding facility — she was kept in a barn with dead dogs and without adequate water, food or veterinary care. On July 28, 2021, she was euthanized.
USDA inspectors visited the facility multiple times and acknowledged the golden retriever's malnourishment and living conditions, but did nothing to help her. Only after many visits to the facility over the course of several months did the USDA finally suspend the breeding facility owner's license.
Goldie's fate is too common in the world of puppy mills, according to animal rights activities and animal organizations like the American Society for the Prevention of Cruelty to Animals. Both activists and the ASPCA are encouraging Congress to pass Goldie's Act.
Goldie's Act (HR 1788), introduced in Congress (House of Representatives) and inspired by Golden Retriever #142 — now lovingly remembered as Goldie — is legislation that would direct the USDA to do more to protect dogs in federally licensed commercial breeding facilities.
If passed, Goldie's Act would require the USDA to inspect commercial breeding facilities more often, hold violators accountable by confiscating mistreated animals, enforce significant monetary penalties and communicate inspection information with law enforcement in a timely manner.
Rep. Jason Crow, from Colorado's 6th District, is one of the 63 co-sponsors of the legislation.
"Animals should never be subjected to inhumane treatment," Crow said. "That's why I supported the Goldie's Act to protect animals and hold anyone who mistreats them accountable."
While it is agreed across the board that animals deserve humane treatment, some professionals and organizations in the breeding industry have concerns about the impact of Goldie's Act.
In an email to The New Falcon Herald, Sheila Goffe, vice president of government relations at the American Kennel Club, said, "If the Animal Welfare Act doesn't have the resources to enforce existing laws, new laws, which have their own issues, are unlikely to address welfare concerns."
With that reasoning in mind, the AKC supports improved enforcement of the AWA instead.
President Lyndon B. Johnson signed the Animal Welfare Act in 1966, and it became law on Aug. 24 that same year. The AWA was first passed because of public outcry about stolen pets being used in laboratories, according to the Humane League, an international nonprofit organization that works to end the abuse of animals raised for food. One article published in 1965 reported the story of Pepper, a Dalmatian who was stolen by an animal dealer and sold to a laboratory. Despite the family's attempts to rescue the dog, Pepper was euthanized during an experiment.
In the beginning, the Humane League stated that the AWA addressed "the treatment of animals kept captive for research and exhibition purposes, and includes provisions for transporting animals for commercial purposes." Since the AWA's enactment, there have been eight amendments added, most of them addressing laboratory experiments on animals. In 2007, an amendment to the act outlawed knives attached to the legs of chickens for cockfighting; that same year, cockfighting was completely banned.
The AWA is enforced by the USDA and the Animal and Plant Health Inspection Services Department. It also falls within the legislative jurisdiction of the Agriculture Committees of the House and Senate.
The Humane League states that many loopholes exist when it comes to animal dealers. "Only those considered wholesale — large-scale commercial dealers, for example, that sell to pet stores — are required to abide by the Animal Welfare Act. Smaller-scale puppy mills frequently fall through the cracks of legislation and can operate without meeting basic welfare standards."
The Humane Society of the United States supports the Humane League's statement.
Breeders who sell directly to the public — face-to-face — which includes "thousands of facilities that breed and sell just as many puppies as their wholesale counterparts —are not required to adhere to the Animal Welfare Act or to any federal humane care standards. … Inspection records obtained by the HSUS show that many USDA-licensed breeders get away with repeated violations of the Animal Welfare Act. These violators are rarely fined and their licenses are rarely suspended. Facilities with long histories of repeated violations for basic care conditions are often allowed to renew their licenses again and again."
Goffe said the AKC has worked with Congress to increase funding for AWA enforcement, with an additional $3 million allocated for AWA enforcement in the fiscal 2023 budget, Goffe said.
"If properly enforced, existing breeder/dealer licensee standards can address issues of neglect or welfare by irresponsible licensees," said Goffe, referring to the AWA.
According to an August document from the AKC addressing their specific concerns about Goldie's Act, the AKC stated, "Instead of improving enforcement of the AWA, it (Goldie's Act) creates confusing onerous new mandates and undermines recently established enforcement efforts. Constantly changing arbitrary rules create a confusing, expensive and potentially harmful environment for animal care in which neither licensees nor regulators may be certain of requirements."
In a December 2021 ASPCA press release, Rep. Mike Quigley, who represents the 5th District of Illinois and is a co-sponsor of Goldie's Act, said, "Time and again, USDA has allowed bad actors in the animal breeding industry to avoid accountability for explicit violations of the Animal Welfare Act. Enough is enough."
According to a January 2023 Denver7 article, "A bipartisan coalition in Congress is expected to try and include (Goldie's Act) in this year's farm bill, legislation that happens every five years in our country and often makes policy changes at the USDA."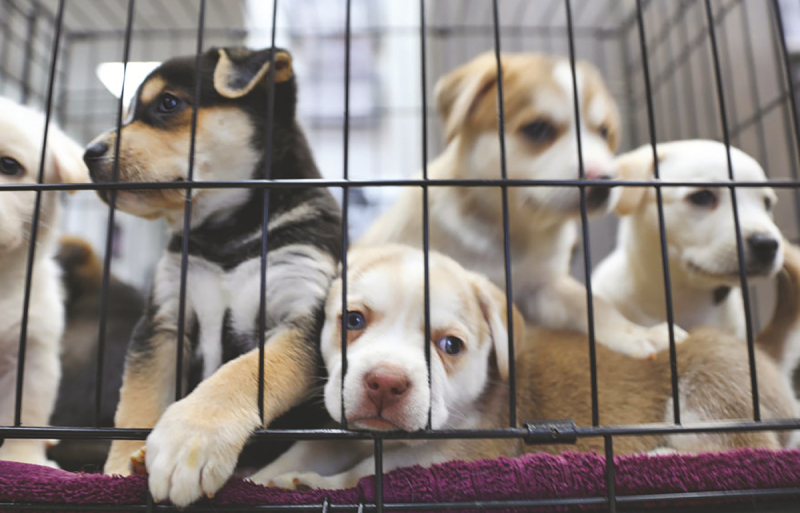 Besides Goldie's Act, the Puppy Protection Act of 2023 is another federal bill expanding the governance of humane handling, care, treatment and transportation of animals; it also includes new requirements for commercial dog dealers.