By Deb Risden
On July 18, a new sixth grade wing of Bennett Ranch Elementary School officially opened with a ribbon cutting ceremony. The 55,000-square-foot wing is two stories high and can accommodate up to 450 students.
Construction began earlier this year and has been completed on schedule and within budget. The new annex will welcome 300 Falcon Middle School sixth graders for the 2023-2024 school year.
Brian Smith, Falcon Zone superintendent, said the reason for the expansion was to handle growth in the district."We needed to depressurize the FMS building. Putting an addition on that building would not be as cost effective," Smith said. "There have been other additions to the building and we're just about out of space. Bennett Ranch is still relatively new." Smith said adding the annex to BRES helps the district maintain flexibility in the future. "If the district has to look at turning this into a true K-8 or turning FMS back to a high school, we have flexible options to meet our students' needs," he said.
The building is designed for separation between the new annex and the elementary classrooms. Smith said the wings can be closed between the elementary students and sixth graders.
Sixth graders will continue to be FMS students. Smith said a sixth grade assistant principal and counselor will follow the students, maintaining a presence in both buildings. The school principals will maintain their existing offices.
Elena Forehand, FMS principal, said the added space does more than accommodate new students. "It will give them space to spread out comfortably to learn and grow. It also helps lessen the number of students in the hallways during passing, which increases safety," she said.
Smith said the annex is based on a middle school model. "Teachers have a pod together so they have their five classrooms; they share the same students and they teach together. It's efficient," he said. "We are focusing on personalized learning in the Falcon Zone, and this flexible space is conducive to maximizing what we can do with our students." Forehand said the model allows teachers more opportunity to collaborate. "This will also allow our students to have an opportunity to work in groups and participate in cross curricular activities."
Forehand said the state-of-the-art facility has multiple benefits. "It includes open learning areas, new music, art and classrooms, as well as a newly designed Z-space," she said. A Z-space is a room where students can utilize different technologies such as virtual glasses and goggles for learning.
The sixth grade teachers from FMS that teach core subjects — reading, writing, math, science and social studies — will move with the students to the new space and conduct classes in the morning. "After lunch, students will walk a path with security teams to FMS and attend their explorer classes, such as art and music," Smith said.
Forehand and Martina Meadows, BRES principal, are working together to ensure success of the model. "Mrs. Meadows and I work as a team in regard to the key pieces of safety and security for students on both campuses as well as the logistics of having a shared space," Forehand said. "Communication is the most important factor to ensure both buildings are run successfully and our students are learning, growing and thriving."
An athletic complex is attached to the new addition, allowing FMS to host gym-based athletic competitions. "It's going to be a nice space for the community to come watch basketball, volleyball and wrestling matches," Smith said.
"I am sure there will be opportunities for challenges," Forehand said. "I say opportunities because these challenges will give us a chance to grow, be creative and work together as a team to do what is best for all students. I am excited to see both our teachers and students achieve and succeed in this new chapter at Falcon Middle School."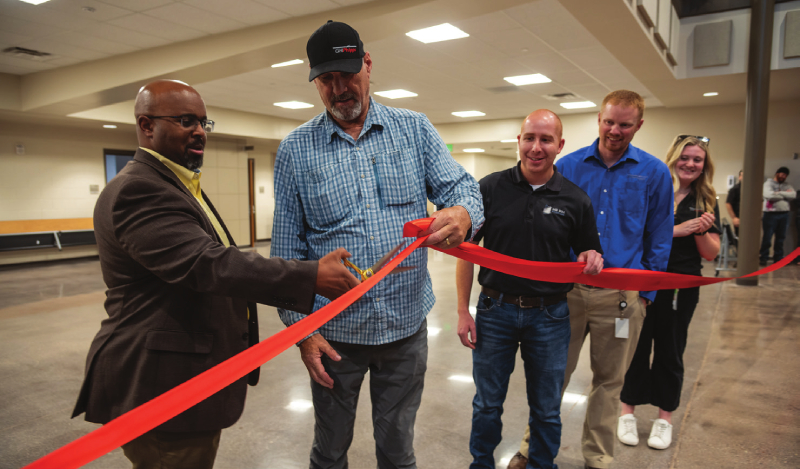 Cutting the ribbon for the opening of the new Bennet Ranch Elementary school wing is, from left to right: Louis Fletcher, D 49 executive director of facilities and operations; GH Phipps Construction employees Ted Heffernan, field superintendent; Tim Gurule, assistant project manager; Tyler Read, project manager; and Danni Parks, project intern.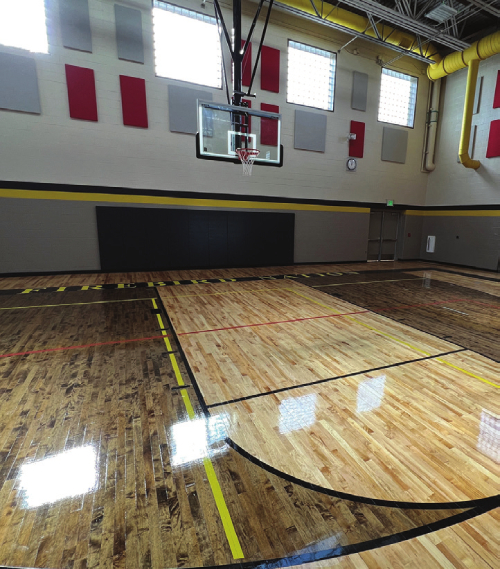 An athletic complex is attached to the new addition, allowing Falcon Middle School to host gym-based athletic competitions.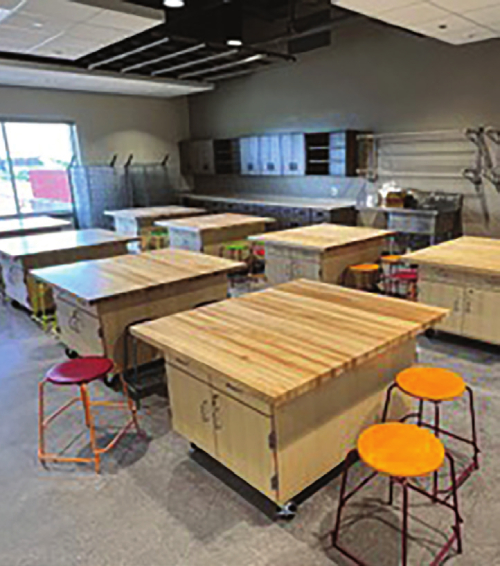 The new state-of-the-art facility includes open learning areas, as  well as a newly designed Z-space for various technologies.