Fight Fraud, Shred Instead – 2023
By Stanley Beckner
For the first time since 2019, after COVID-19 shut everything down, AARP Chapter 1100 in conjunction with AARP ElderWatch Colorado, held a free shredding event in Black Forest. 
Individuals came from 21 different ZIP Code areas of central Colorado to participate. They dropped off their personal documents for safe and immediate shredding, yielding about 7,000 pounds of paper, which will be recycled. They also donated 370 pounds of non-perishable food and $255 to the Black Forest Care and Share Food Bank.  
Shredding unneeded personal documents is recommended because it removes the possibility of individuals recovering them from trash bins or storage areas and using the personal information for fraudulent activities.
Chapter 1100 proudly plans to have another shredding event next year. In the meantime, the chapter will participate in other community service activities. The chapter motto is "To Serve, not to be Served." Chapter membership is open. There is no age requirement for membership. Interested individuals can contact Candace, the chapter president at 314-330-0411.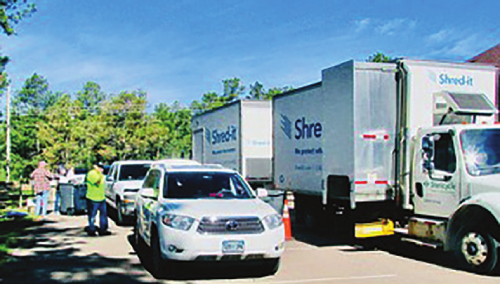 AARP 1: Volunteers unloaded personal documents to await trucks for on-site professional shredding. About 7,000 pounds of paper was shredded and recycled.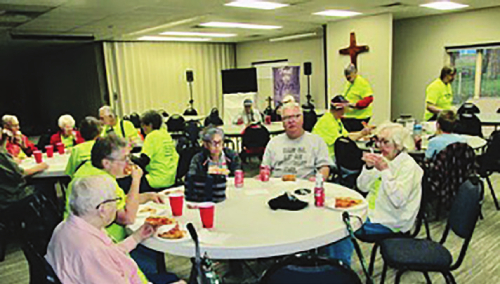 AARP 2: Electa Beckner (left) from AARP Chapter 1100 delivers some of the 370 pounds of donated food to Lydia Zelones, Black Forest Care and Share Food Bank supervisor.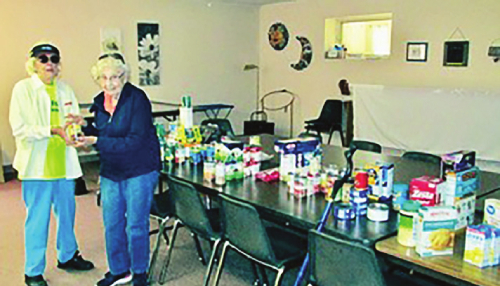 AARP 3: The AARP Chapter 1100 volunteers enjoy some well-earned pizza after a morning of hard work on the shredding line.